Price:
£25.00
4 Years in the making, Andy and Aditya "Dicky" Singh's spectacular 160 page Tiger book on the life of one amazing tiger in Ranthambhore.
Noor, Queen of Ranthambhore
4 years in the making.
Hundreds of hours waiting, watching, hoping.
The result - the most amazing tiger book ever published. A 160 page celebration of stylish tiger photography and engaging story telling. Two photographers telling one compelling story in a collaboration of pure friendship. Cute cubs to dramatic hunting sequences. Colour, monochrome and Infra-Red photography.
Foreword by India's foremost tiger expert Valmik Thapar.
Supporting local conservation projects via Tiger Watch.
The book has something for everyone:
For the Tiger Lover - we cover all aspects of Noor's life via a collection of stories about our most wonderful encounters with her. We've included other wildlife too, leopards, birds, deer all feature. The writing puts you right there with us at the decisive moments, it will captivate you and really bring the pictures to life.
For the Photographer - the images will inspire you with a mixture of styles rarely seen in any wildlife book encompassing colour, monochrome and Infra-Red. With the latter we have a lovely Infra-Red portfolio showing Noor's territory in the harsh light of Summer. Plus you will get commentary throughout on what it's like being a Noor photographer AND two spreads of Photo Hints & Tips that you can use for your own photography.
Here's a few pages from the book...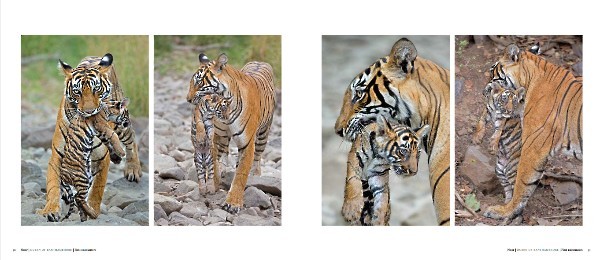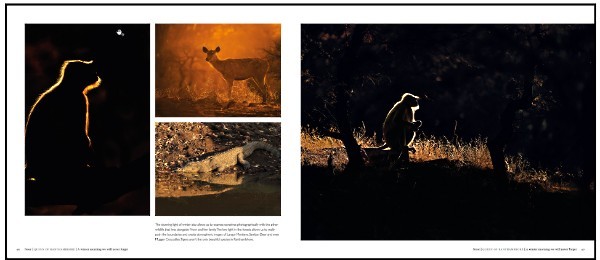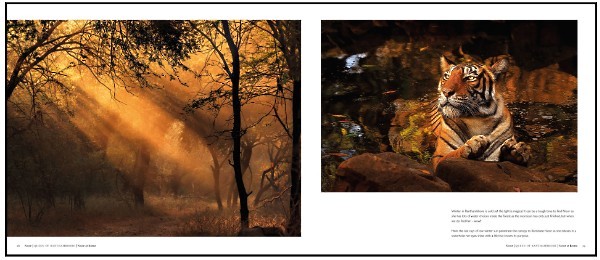 Tiger Conservation
So as photographers where do we fit in conservation? Well we have both raised funds for conservation projects in Ranthambhore, the last one was to dig a well on the outskirts of Ranthambhore to stop tigers going into villages to get water in the dry season. You didn't see it on social? No because we took some of the profits from Andy's first tiger book and used them without any fanfare. Also from that book donations were made to several other NGO's as well.

We don't make any claims about our conservation credentials, as we are just two tiger loving photographers. But what we do is to give wild tigers great PR throughout the world with our work, and allow others much more talented than we are to deliver their conservation messages more effectively by using our powerful imagery. We are PR agents for Noor and her fellow tigers. And that is the focus behind this book, we want you to love tigers like we do, and perhaps afterwards get involved by supporting one of the organisations that we highlight. Only by supporting these great organisations and the valuable work that they do, and getting greater public awareness, will the tiger survive. We have all got to learn to live together in this expanding world, and that desire must come from within.


Dedications and shipping
So if you would like a special dedication inside the book, perhaps it's a gift or you just want Andy to give you a very personalised message, then you have two choices:
1) When you are entering your details into Paypal you may see a field entitled "Instructions to Seller" - simply put your dedication in here and this sometimes gets to us (but not always) or...
2) Click the link below to send us an email with your order number and dedication. Do this immediately after order and we will get it and action it.
Personalising a book is a pleasure and we love doing it.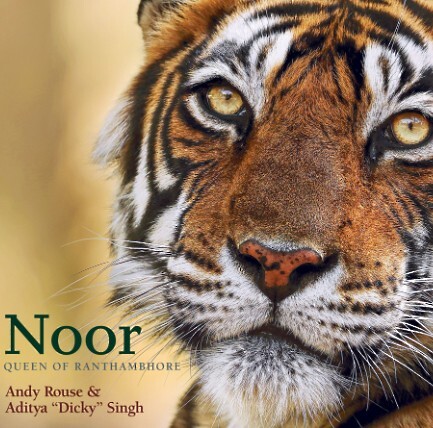 Shipping and Ordering
We use Paypal as our web merchant, simply because they are so reliable. You can either use a paypal account or simply use your own credit card without having to create anything. It's quick and easy, just add to the cart and away you go!!!

So we charge shipping at cost, actually we have taken a hit on the true costs for you. For the UK we use DHL who offer the most reliable service to ensure that our clients get their books in a timely fashion without issues and we charge £5 plus VAT. For the EU we use DPD and charge £12, for the US / Canada it's a very reasonable £20 and for Aus / NZ it is £25, all via Fedex. International shipping is expensive and we apologise that this is totally out of our control.
We made the decision for sustainability reasons to not have the books shrink wrapped. They are also shipped in recycled cardboard book mailers.

We expect to dispatch all orders within 7 days of receipt, most often it's a lot quicker.
Other ways to get the book
If you don't want a signed book then you can always use our Amazon Prime Storefront by clicking here .
Subscribe to the ARWP newsletter
Get all the latest and exclusive news straight into your inbox