TwinShooter
Price:
£210.00
The TwinShooter is an amazing piece of kit that allows you to mount two camera and long lens systems onto a Flexline head.
This is the UK Store for Flexline with

free delivery

for UK mainland orders. For orders outside of the UK please use the main Flexline store by

clicking here

.
TwinShooter the lowdown
TwinShooter is a special mounting plate that fits directly onto the FlexLine PRO and EXTREME heads and allows you to mount two long lens based systems on one head. This will allow you to shoot with either two systems that are setup for different types of shot (one portrait and one action) or two different compositions (one tight portrait and one much more wide angle). So a typical combination would be a 500mm lens and 100-400mm lens. No more scrabbling around changing lenses, both are mounted and ready to go and of course you get all the levelling and balancing benefits of a Flexline heads. It's an amazing piece of kit!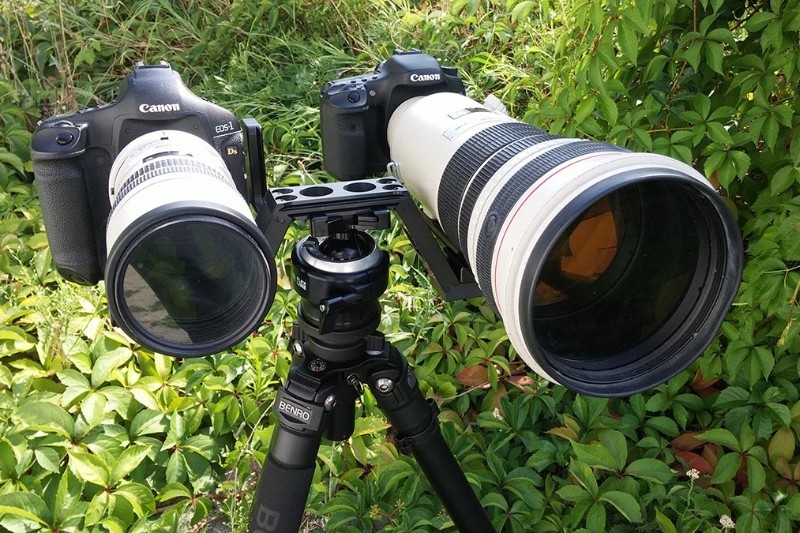 TwinShooter in Action
I use TwinShooter a lot, especially when I am working in a hide. It gives me the chance to shoot a tight portrait and then a more wide angle shot with the shorter lens. I find it saves a lot of time messing around changing kit.
Recently I have been using it with the 500mm lens setup for portraits (low ISO, slightly higher aperture) and the second wider system setup for high action. This saves messing around with camera settings for each shot. I've used it very successful with Bee-Eaters (video following soon) and Barn Owls.
Check this video on how I used it for Red Squirrels.
Specifications
Material: Anodized aircraft grade aluminium alloy
Weight: 720 g
Dimsensions: 380 x 110 x 40 mm
Tripod thread: 3/8"
Maximum load: 2 x 20 kg (22lbs)
Delivery
Your delivery will arrive by registered courier. It will take a minimum of 3 working days to receive your order, if there is a delay we will let you know by email. If you need the order delivered to a different address from your registered address please email us here.
Mounting your kit onto your Twinshooter
It is not possible to mount your camera onto the Twinshooter head, it is for lens mounting only.
Long Lens Mounting - If you are using any lens that has a lens foot then you will need to mount this directly onto the head (see the setup videos first) and for this you will need a replacement lens foot as the manufacturer supplied ones are too short to allow correct positioning to get the perfect centre of balance. Flexline supply a range of replacement long lens feet that are custom manufactured for Flexline heads, click here to see the product page for details (once you have added the head above into your basket of course!!!)
Subscribe to the ARWP newsletter
Get all the latest and exclusive news straight into your inbox