BigFoot Replacement Feet
FLN_10_BigFoot
Prices From:
£80.00
Our BigFoot range of slimline replacement long lens feet allow you to perfectly balance your big lens on our heads. There are different plates for different lenses so check the buying guide...
This is the UK Store for Flexline with
free delivery
for UK mainland orders. For orders outside of the UK please use the main Flexline store by clicking here.
Why do I need a replacement foot?
Long lenses such as the Canon / Nikon 200-400, 300 f2.8, 400 f2.8, 500 f4 and 600 f4 come with a very small lens foot. This is pretty useless when trying to mount to a tripod head as it's too small to centre the balance and can easily twist as it's just got one screw to hold it in place.
So we made the BigFoot for you, our own range of custom manufactured replacement feet that we honestly think are the best on the market today.
It's all down to their low profile design. This lowers the centre of gravity so your heavy lens won't sit high up anymore like on other heads. Thus you will get a perfect balance with your Flexline head and the best possible balancing action. All have been manufactured to ensure that you can add 1.4x and 2x converters and still have enough play to set the centre of balance. Made for perfection.
They use your existing screws, take 5 minutes to change, have Arca Swiss plates built in.

So they are an ESSENTIAL purchase for you to get the most from your long lens and Flexline head.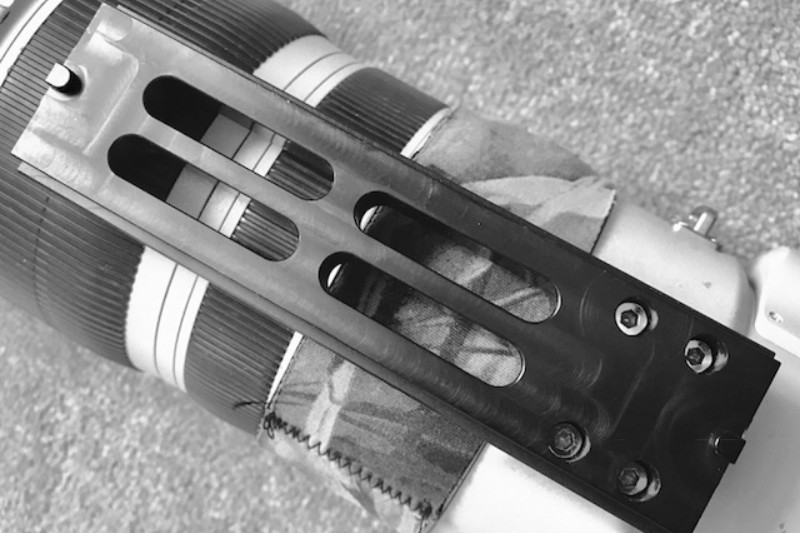 Which plate do you need?
Listed below is a table of what plate you need so just look it up and select the one you need in the dropdown menu!
Canon 200-400 f4L IS
You need the FLC-30 plate

Canon 400mm f2.8L IS v1
You need the FLC-20 plate

Canon 400mm f2.8L IS v2
You need the FLC100 plate
Canon 500mm f4L IS V1
You need the FLC-21 plate

Canon 500mm f4L IS V2
You need the FLC15 plate

Canon 600mm f4L IS V1
You need the FLC-20 plate

Canon 600mm f4L IS V2 & V3
You need the FLC100 plate

Canon 800mm f5.6L IS
You need the FLC100 plate

Nikon 400mm F/2.8E FL ED VR
You need the FCN-20 plate
Nikon 500mm F/4E FL ED VR
You need the FLN-10 plate
Nikon 600mm F/4E FL ED VR
You need the FCN-20 plate
Nikon 800mm F/5.6E FL ED VR
You need the FCN-20 plate
Delivery
Your delivery will arrive by registered courier. It will take a minimum of 3 working days to receive your order, if there is a delay we will let you know by email. If you need the order delivered to a different address from your registered address please email us here.
Hints and Tips
Please make sure that you order the correct plate for the lens that you have as their is a difference between v1 and v2 Canon lenses!
Do not over-tighten the screws when you attach your plate, just hand tight is good enough as you have 4 points of contact.
Before you use your new head remember to check out our setup vides to get the best results - click here.
Lens not listed?
It's impossible for us to make plates for every lens on the market, so we have concentrated on the longest and heaviest. Of course it is possible to mount lenses like a 100-400 or 70-200 onto the Flexline heads and we thoroughly recommend a third party replacement foot for these lenses. These are available from multiple sources online and will give you a much better option for getting the exact centre of balance with these lenses.
Warning
: mysqli_fetch_array() expects parameter 1 to be mysqli_result, null given in
/home/andyrous/public_html/store/product_detail.php
on line
574
Subscribe to the ARWP newsletter
Get all the latest and exclusive news straight into your inbox