Price:
£30.00
Get Andy's amazing new book Tuning into Nature
Welcome!
Hello and welcome to the buying page for Andy's amazing new Tuning into Nature book. Here you will find all the options for getting hold of this book, and you will want to!!!!! During the past year Andy has been really pro active in helping people to stay positive through the pandemic, Tuning into Nature is a record of this and an inspiring one too. Financially we have been hit hard like so many others and books like this cost a lot of money to produce, therefore we appreciate every purchase made. If you want to read all about the book and download the intro then click here for our launch BLOG page.


Dedications
So if you would like a special dedication inside the book, perhaps it's a gift or you just want Andy to give you a very personalised message, then you have two choices:
1) When you are entering your details into Paypal you may see a field entitled "Instructions to Seller" - simply put your dedication in here and this sometimes gets to us (but not always) or...
2) Click the link below to send us an email with your order number and dedication. Do this immediately after order and we will get it and action it.
Personalising a book is a pleasure and we love doing it.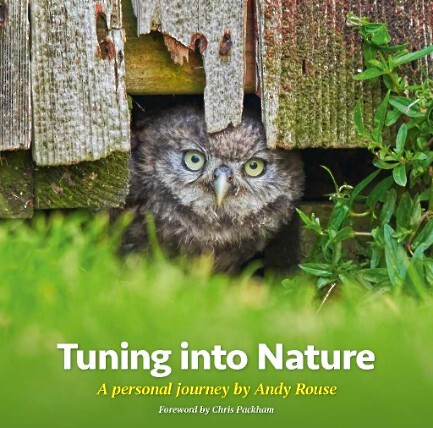 Shipping and Ordering
We use Paypal as our web merchant, simply because they are so reliable. You can either use a paypal account or simply use your own credit card without having to create anything. It's quick and easy, just add to the cart and away you go!!!

So we charge shipping at cost, actually we have taken a hit on the true costs for you. For the UK we use DHL who offer the most reliable service to ensure that our clients get their books in a timely fashion without issues and we charge £5 plus VAT. For the EU we use DPD and charge £12, for the US / Canada it's a very reasonable £20 and for Aus / NZ it is £25, all via Fedex. International shipping is expensive and we apologise that this is totally out of our control.
We made the decision for sustainability reasons to not have the books shrink wrapped. They are also shipped in recycled cardboard book mailers.

We expect to dispatch all orders within 7 days of receipt, most often it's a lot quicker.
Other ways to get the book
If you don't want a signed book then you can always use our Amazon Prime Storefront by clicking here .
Subscribe to the ARWP newsletter
Get all the latest and exclusive news straight into your inbox