Prices From:
£478.80
( inc VAT )
A truly amazing piece of Arctic art, printed on incredible Metallic fine art canvas limited to 25 only.
Arctic Dreams
I can remember the exact moment this image was taken like it was yesterday. It had been an amazing day on so many levels. We were in the pack ice to the east of Svalbard, all alone without anyone else. The day had started misty and we'd found a few nice bears but literally just as the sun broke through, drizzling the ice with its warm evening glow, a mother and cub were spotted chilling out ahead of us. Slowly, ever so slowly, we approached them, coming to a halt against an ice flow. The choice was theirs, come and check us out or just continue on with their lives and our best wishes. They chose to check us out, slowly approaching the ship. After an hour or so, they appeared round the front of the ship and strode right onto an iceberg in front of the setting sun. It was a wonderfully inspiring Arctic moment, one that will stay with me forever, and which will be immortalised with Arctic Dreams.
The edition
This canvas must be seen big hence we have limited the size to 100cm on the longest side. It is printed on unique Metallic Canvas that creates amazing effects unlike anything you've ever seen from a canvas print. The finish is richly metallic; created with a unique blend of pearlescent materials. This is simply the highest quality pearlescent canvas available. Canvas prints suit all room types; where there is an excess of light and also an absence of light, in fact they look great anywhere and in our house we only have canvas prints. It's the texture that makes this uniquely suited to canvas, we hope that you agree!
This print is limited to 25 only, which makes it truly something special to own. The canvas is supplied with a signed certificate of authenticity. Note because of the weave the canvas print is not able to be signed or numbered directly, hence the certificate is the proof of limited edition status.
A fantastic centrepiece that will be a talking point in your home / office or collection for years to come. Here is what it might look like: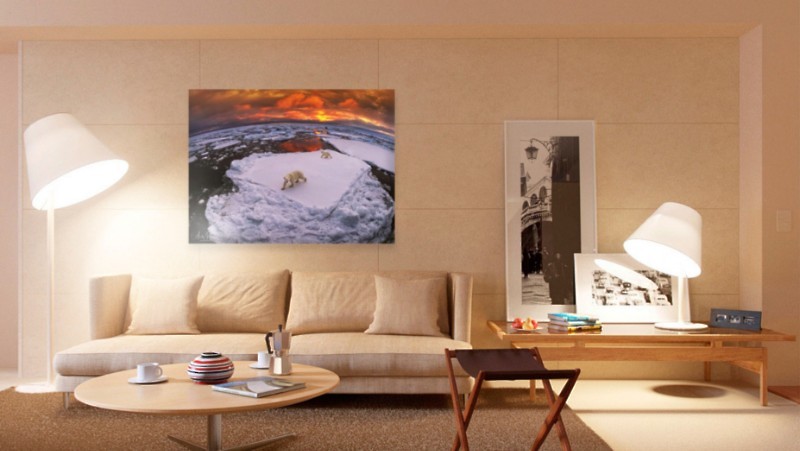 Image shows a 100cm canvas
Available Finishes
Arctic Dreams is available in two different finishes:
Metallic Canvas - As a 100cm Metallic canvas, supplied on 38cm stretcher bars and ready to hang immediately.
Metallic Canvas with frame - As above but with the addition of a solid wooden frame to create a unique and original work of art. The thin frame sits approximately 5mm from the edge of the canvas helping create a floating border which creates a real statement for the image.
Delivery
Since we only make a quality product each canvas is made to order. Therefore it can take upto 14 working days from order to you receiving your wonderful package. If you have an urgent birthday, or it's for a short notice leaving gift, then simply email us and we will try our best to help as long as it's not less than 7 business days. Your package will be delivered by a registered courier in drop proof packaging. It is therefore vital that you specify the correct delivery address and a contact phone number when you place the order by selecting the option above. You will then be taken to our online store to complete your order. When it is complete you should receive an email confirmation from the system, this may take upto 12 hours so please be patient.
Subscribe to the ARWP newsletter
Get all the latest and exclusive news straight into your inbox