Announcing Tuning into Nature
Tuning into Nature tells the story of my personal journey towards happier days by confronting my mental health and wellbeing during lockdown. It is the perfect book for anyone looking for inspiration to change for the better through the wonderful healing power of nature and photography.

Like many people, when the world changed in March 2020 I found myself struggling, not only with the huge changes affecting the global travel industry, but also with some personal issues closer to home - literally! Via the healing power of local nature, I rediscovered during lockdown the most precious commodity that I had lost in my busy professional life… time. During the darkest months of 2020 I learnt to conquer my inner saboteur by taking world class images of local wildlife that I used to inspire and guide others to embrace the healing power of nature.
This book is packed with astounding wildlife images but it's so much more than just another photography book. This is the intimate story from behind the lens, not only of the fieldcraft and photographic process, but also the inner thoughts and struggles which can affect us all. This is the perfect book for anyone who loves wildlife and wants to understand how Tuning into Nature can help them live a more balanced life.
"Andy is a great teacher, but for me the joy is to read the text and see the story in those pictures. That says more to me about the man who made them and how they helped re-make the man." – Chris Packham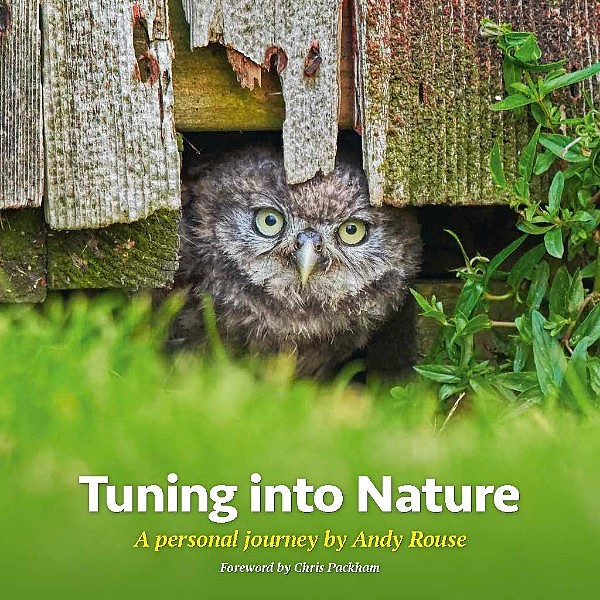 A beautiful image of a young little owlet peering out from it's nest at the big wide world, I am sure that many of us resonate with this feeling. As you can see my good friend Chris Packham wrote the forward after reading the book, as usual it's thought provoking, considered and to the point. It sets the tone for the text that follows, truthful, positive and uplifting.
Download and read a sample
Fancy a quick read to see the style? Then click here to download the Intro spreads of the book, we know that you will love it
"Nature is a radio, you just gotta know how to listen….and to be willing to listen. It's also a question of time. This is where nature, and to some extent wildlife photography, comes into its own. It is a free counselling service, a way to relax without the pressures of life….it's available for all of us no matter where we are."
So this book will be many things to many people, but at its core it's a book for reading. It's already appealing to a wider audience than I ever had before, as it talks about so many common issues in life and photography. Check out this couple of spreads...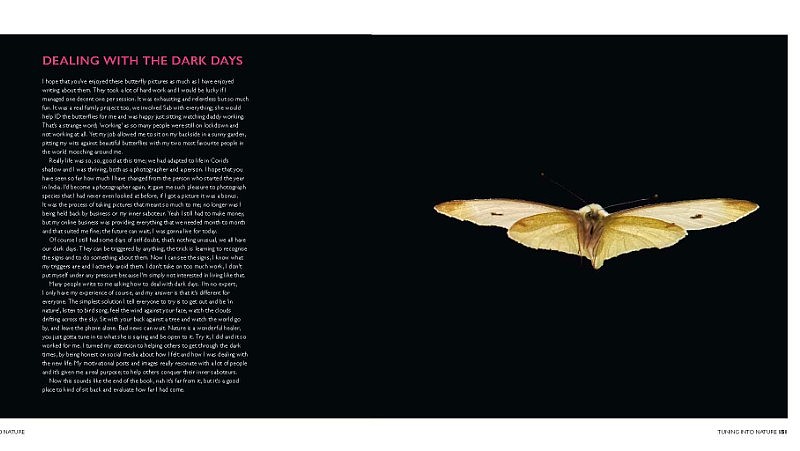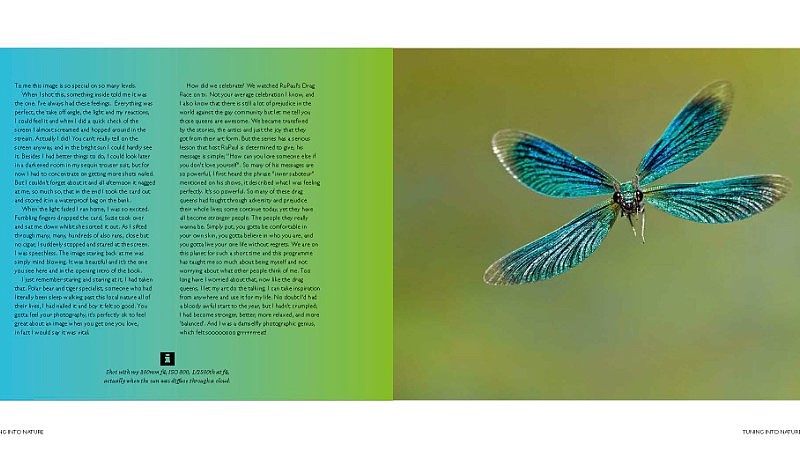 Isn't the design beautiful? Yeah it's the work of my very cool designer Toby, I told him to let his creative juices flow and he's done an amazing job!
The book charts 2020 through my thoughts and pictures. It starts off with "business as usual" travelling in India for my beloved tigers. So yes there are some lovely tigers in the book...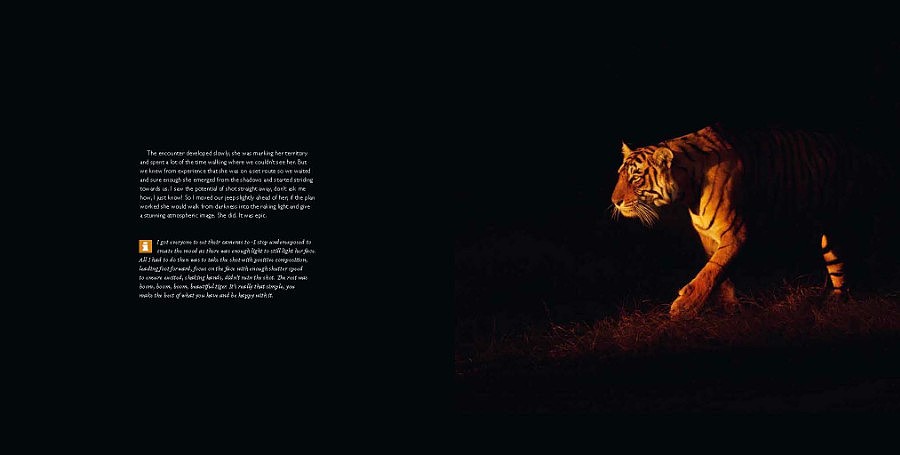 After that the focus is purely on my experiences working with local wildlife close to my home. In fact it's 212 images packed into 216 pager of nature love. The sections are a mix of stories, experiences and thoughts. It's very personal like I said!
For photographers - I have written this book to be approachable and readable for all. So whilst I shoot with Olympus, I have tried to keep it as generic as possible. So I explore genres of photography that I have never ever dreamt of before such as macro... loving the butterflies in my garden, working out how to get bees in flight, just living for my photography. There is a ton of info for the photographer, hints, tips, insights and techniques explained, the bigger story though is the thought process behind my photography and the pictures within this book. So you will get the lowdown and the background info that you can apply to your own photography.
For Olympus photographers - of course since I shoot with Olympus there are hints and tips for using Pro Capture and Focus Stacking. In fact Pro Capture is mentioned in several sections such as bees, butterflies, kingfishers and red kites, with full info in plain english of how I set it up and use it. Just so you know apart from the iphone shots of me and one old picture of a tiger (that won an award), every other picture is taken with the Olympus system. It's probably the first time in years that there has been a nature book with such a prevalence of Olympus images. Hopefully will silence the knockers once and for all!
One of the best things to come from this time for me was my appreciation of species that, up until now, I had never had the time to sit and watch. Bees top this list, wow what marvellous bits of kit they are. I loved photographing them and you will see a few stories of my exploits plus some gems of knowledge I found out...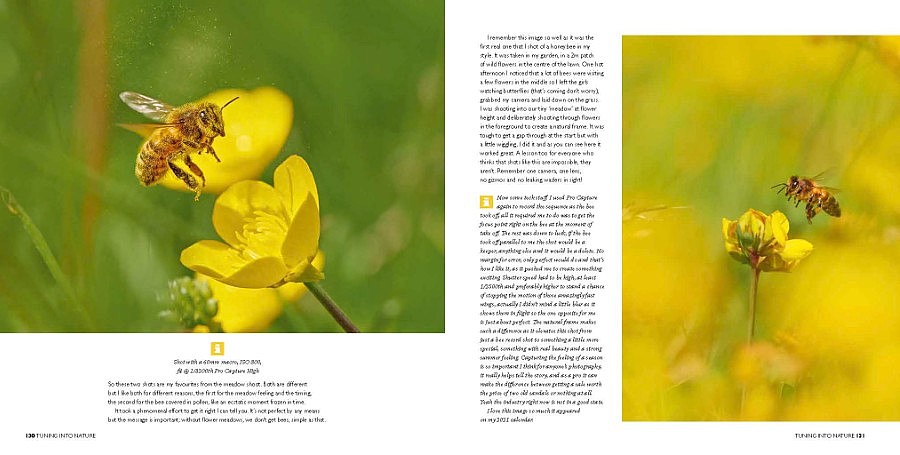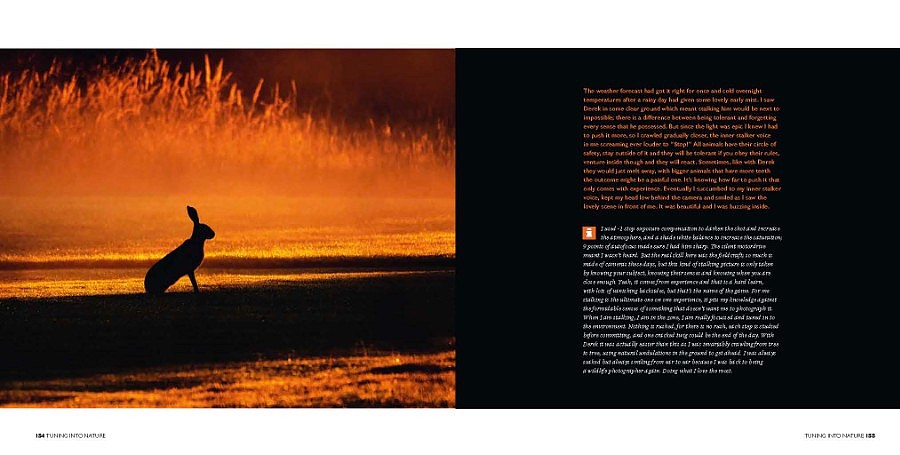 For lovers of Derek the Hare there is a section talking about my relationship with him and what he has meant to my photography. Of course there are plenty of fieldcraft hints and tips too, you will fall in love with him if you haven't already!
What people say...
Our WildBunch members could purchase copies before release, here are some comments picked at random from our email:
Powerful images with powerful messages and a good smattering of technical advice. A must read.

I have found the book "Inspiring and thought provoking"

Still working my way through Tuning into Nature. So much content and very high quality presentation; it must have taken a great deal of effort to put it together.
Absolutely superb. Love the photos and the words. Truly inspirational.
I am not even remotely prone to sycophancy but ............ the book arrived yesterday and it's truly gorgeous!! I took time out yesterday and today to immerse myself in it, stunning images as well as poignant words. I really hope you have got as much out of writing this book as so many of us will from reading and absorbing it.
When someone wants to share a nature photo that's great. When someone wants to share an insight into their thoughts behind the image, then that's a special person who deserves to be listened to. You will be inspired by Turning into Nature. I was.

Andy's heart and soul has obviously gone into to the making of this beautiful book. Illustrated with his wonderful photos of wildlife, there is something for everyone and it describes how he felt and coped with the pandemic by using his love of the natural world as his antidote.

This is not just for your eyes, it is for your soul too. It is equally good for both.

The images are beautiful and the words make it extremely difficult to put down. It was a real pleasure to read and I undoubtedly will be revisiting it many times over and it'll help me find the light on the overcast days.

Incredible images, with insightful hints and tips. Even more, this gives you a real insight into one of the UK's most inspirational photographers. A must read for both new and experienced photographers alike.

You are known for your artistic skill in photography but it is your writing that truly hits home in this particular book. It feels as though you are talking to me directly.

Getting your copy of Tuning into Nature
It's an awesome book and here's how you can get your own copy...


Signed / Dedicated Books
If you want a personally signed book, perhaps with a special dedication, then our website store is the ONLY place that you can get it.
We ship all across the UK, Europe, US / Canada and further afield using well known couriers to ensure safe delivery of your book. Our online store accepts credit card payments via Paypal.
Grab your personally signed copy today!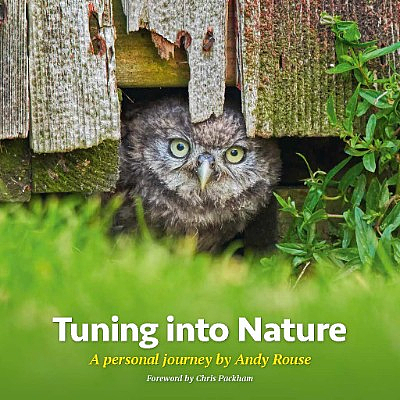 Amazon Storefront
We have a dedicated Amazon storefront where you can buy our books plus other useful things that we use. The button below will take you to the new books section where you can see Tuning into Nature and get it with all the benefits of Amazon prime.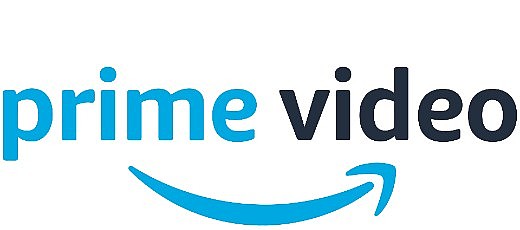 Bookstores
We are too small to be stocked by bookstores but you can order Tuning into Nature from your local store and they can get it from a distributor that we deal with.
And Finally
It's been very tough financially so every penny for us counts. This book has been something that we felt we just had to do, we've self published it so all the bills coming in for it need to be paid! So every purchase helps and we just wanted to say thanks in advance for anyone who purchases our books.
id=142
Subscribe to the ARWP newsletter
Get all the latest and exclusive news straight into your inbox