Diving Gannet Extravaganza 2019
Price:
£525.00
Come with AndyR to see one of the greatest wildlife spectacles in the UK and get some great pictures too!
Diving Gannet Extravaganza!!!
Date: Tuesday 10th and Wednesday 11th September 2019
Price: £525
Includes: 4 x gannet fishing trips, 6 buckets of fish per trip and services of Andy Rouse as experienced pro
Introduction
It's one thing to photograph Gannets on the cliffs but the holy grail is to get them diving into water. Watching Gannets diving frantically into the sea right next to the ship is simply amazing. Well this is exactly what this great workshop will do. Now the usual is to go out once, do the session and come back, that's it. If you have bad weather that day it's a wasted trip. Well we have something different to maximise the trip and ensure that you get the best chances of getting the best images with the guidance of a very very experienced pro - that's me!! So here's what's included:
1) Four diving sessions over the course of 2 days so you will get 4 chances to get great pictures. That could be 2 sessions each day or 4 sessions in one day if the weather looks dodgy! This is exclusive to Andy and everyone says that it gives them better pictures as a result as you learn from each experience and get better results the next time. On one run you could just do wide angles, on another flying, on another them erupting out with fish.
2) We have limited the number of photographers to 10 rather than the usual 12. This is to give you extra room to move and get the shots that you want.
3) Plus you will get the full benefit of Andy's expertise with full pre-departure information, an extensive technical briefing before each shoot and his expertise throughout. He has a good mastery of action photography and has worked out how to get the best from the Gannet action. He will also run the chumming session in a slightly different way to other trips.
No other operator does any of this, proof that this trip is something special that you cannot get elsewhere. Of course it costs a lot more to run it but you are getting much more chances in return, particularly with the weather!
Here's a few pics for you....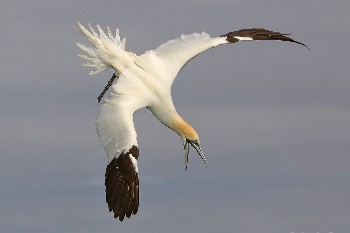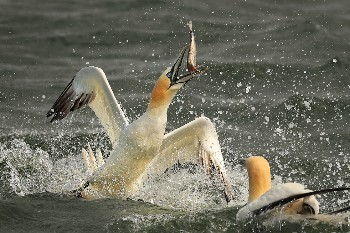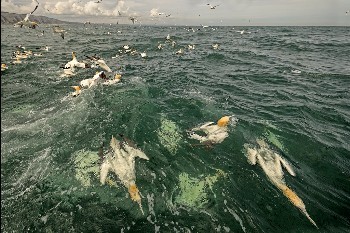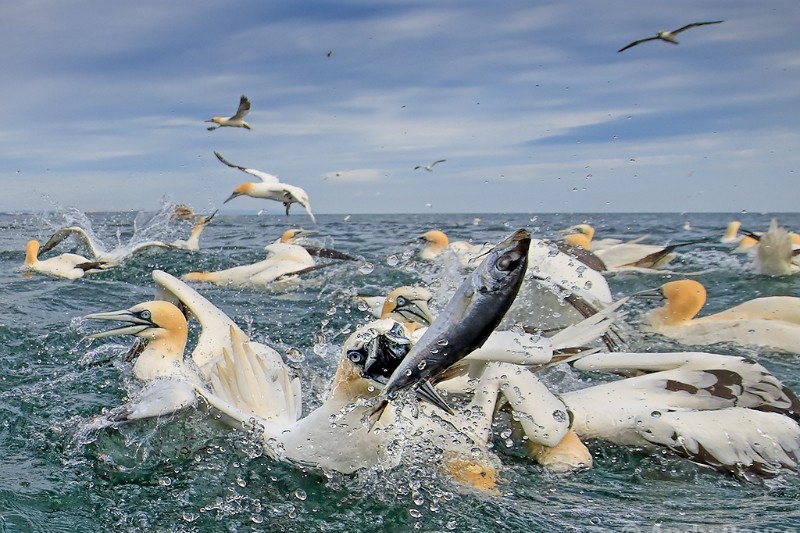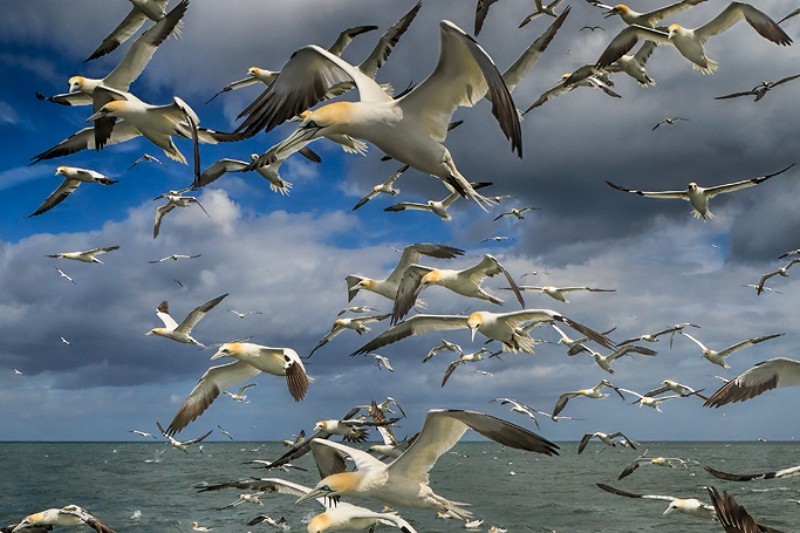 Wow!!!! So remember you will have Andy's expertise on hand all the time to help you plus you get 4 sessions and extra room on board. You will need Andy's expertise on this trip as it can be tough to capture the action and very confusing where to start when there are so many birds.
Under the Waves
It's great above the waves but totally amazing underneath too! So we will give you the chance to use a Go Pro on a stick or even a housing to try underwater footage. It's quite a long way from the side to the water so you will need experience at doing this, it's too far to lean over. But perfect for a monopod with a Go Pro on top. These are taken with my 5D4 in a housing...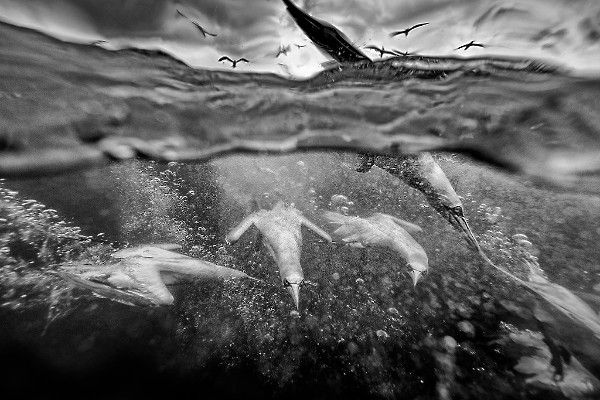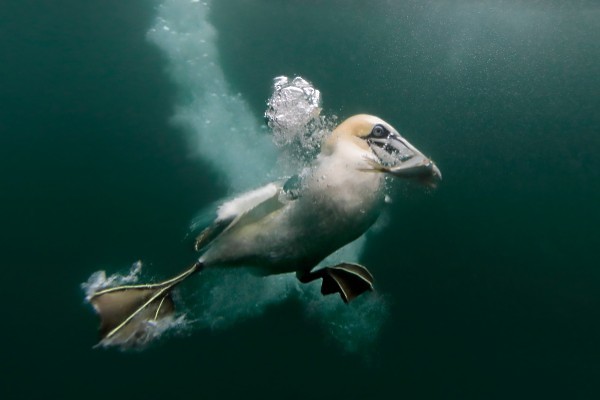 Day Plan
Our departures are governed by the tides so here is the plan:
Monday 9th September 2019
Arrival and welcome, likely a Thai meal to all meet
Tuesday 10th September 2019
Sailing time - 6.15am
Wednesday 11th September 2019
Sailing time - 6.15am
We will leave from Bridlington Harbour and it takes 1 - 1 1/2 hours to reach the feeding grounds depending on the tides. On the way out Andy will be giving a full briefing on everything that you need to know, from exposure to autofocus to any tips and tricks you will need to get great shots. That is why you have his expertise on the ship. Then everything depends on the weather. If both days are forecast good then we will do two feeding sessions per trip out with a 1 hour break in-between. Doing this will allow you to assess what to change for the next session!
A Word about the weather....
It's the North Sea so it's not fun at any time of the year. It can be flat enough to canoe, it can have a slight swell or it can blow a gale. Our boat is a fishing vessel with an experienced captain. There is no shelter on board. If the weather is bad we will not go out. The advantage of having 4 trips over 2 days is that the weather will be assessed for each day individually. On an average year about 1/3 of sailings are cancelled due to inclement weather. That's the North Sea for you, but the reward is great! That is why we do two consecutive days.
If we do not go out for a session you can goto Bempton Cliffs or any one of the nearby nature reserves as we will always tell you our plan. I am present purely to run the Gannet Diving Experiences and that's all, so there will not be any other formal workshop sessions. Of course I will be there to help throughout and we can all try to have dinner together in the evening, which will be great to exchange ideas etc.
Bad Weather Refunds - Unfortunately it's our policy that no refunds will be given for missed trips as we still have to be there and we must still charter and pay for the boat regardless. It's important that you must understand this when you make the booking. BUT in the unlikely event that we cannot get out either day I will refund 40% of your money as I still have to pay for hotels and the boat charter regardless.

Please note that in extreme cases, where we can see worsening weather, we may opt to do all 4 diving sessions in one day. This will mean that we will be out for in excess of 8 hours but there are basic toilet facilities (see below). Note we may decide that we do all 4 sessions on the first day, this has happened before. In this case that we will be the end of the workshop, you will be free to leave once we get back to dry land or to stay and enjoy the next day but it's likely that I will leave at this time too. After all we will all have thousands upon thousands of pictures to edit!!!
We have actually done the 4 dive session 75% of times and everyone loves it!

Facilities
Yes we have toilets! But they are very rudimentary. There is a "sit down" chemical toilet that is shielded in the cabin that is for the ladies and where a no2 is required by anyone. For the lads requiring a no1 there is a bucket in a sheltered and private location!!! Basic but essential, no one minded last year!
Kit
Anything from an 11mm to a 300mm will be perfect, nothing longer is necessary as we can control how close they are. More info closer to the time to everyone that has booked.
Accommodation
There is plenty of accommodation available locally, the Rags Hotel is right on the harbour and there is a lot that Air BnB can offer too.
Price and Booking
The price is £525 for both days. This includes 4 exclusive sessions on the boat and the services of Andy Rouse as your guide. To book your place on this great adventure just use the link above and you will be taken to our payment system.
Once paid all monies are non refundable under any circumstances.
TERMS AND CONDITIONS OF BUSINESS
ARWP LTD
1. The meaning of some words used in these Terms and Conditions.
We, us or our is a reference to ARWP Ltd, You or your is a reference to the person to whom we are providing our services and who is required to pay for the services we provide. Services means the trips ( including abroad ), tours, tuition or workshops we will organise. The precise services we will be providing to you will be stated in the literature including website(s) and newsletters advertising the services on offer and as we may agree from time to time.
2. Legally binding contract
2.1. A legally binding contract between you and us will come into being when you accept the offer of services from us by booking your place.
2.2. We suggest that before you accept the offer and book your place you read through these Terms and Conditions. If you have any questions concerning them please contact us.
2.3. You should keep a copy of these Terms and Conditions for your records.
3. Providing the Services
3.1. Our aim is to always provide you with the Services using reasonable care and skill.
3.2. There are certain situations or events which occur such as but not limited to adverse weather, non or poor appearance of wildlife, Acts of God, war, acts of terrorism, riot or civil commotion, fire, strike and government or other official intervention which are not within our reasonable control and will affect our ability to provide the services. Where this occurs we will where possible attempt to recommence performing the services as soon as we are able to. In such circumstances there may be a delay before we can start or continue performing the services. Sometimes we might have to bring the start time for the services forward. If we are able to start or continue performing the services or bring the start time forward but you choose not to participate for any reason you will not receive any refund.
4. Expulsion from Services
You agree to act in a suitable and proper manner whilst participating in the services with particular reference to the safety and welfare of wildlife and the enjoyment of the service by other participants and their safety. Should you be in breach of this we reserve the right to expel you from the services and in those circumstances you would not receive any refund.
5. Cancellation by us
5.1. If we cancel the services before they start you will receive a full refund of the money you have paid to us for the services. This does not include any other payments you have made such as for flights or accommodation. It is your responsibility to make sure you have in place appropriate insurance to cover these payments in the event that you do not take up or use whatever you have paid for.
5.2. We shall not refund to you any money which you have paid to us for the services which we have paid to third parties such as for accommodation abroad, internal flights or other travel arrangements abroad which we cannot recover from a third party. We will always try to obtain a refund from the third party and will pay this back to you if received by us.
5.3. If we cancel the services after they have started for any reason you will not receive any refund.
6. Cancellation by you
6.1. Once we and you enter into a binding contract you will not be able to cancel the contract. This is so that the services we are providing can continue for the benefit of other clients. Any money paid by you will not be refunded whereas paid as a deposit or in full payment.
7. Insurance It is your responsibility to ensure that you have adequate travel or other insurance to cover all eventualities where you do not receive a refund from us.
8. Restrictions and Assumptions We will assume that all information and facts that you provide are accurate and true such as your level of fitness or health if this is relevant to the particular services. It is your responsibility to draw to our attention anything which may be relevant or which may affect you from participating in the services we provide before booking and making your payment to us.
9. Exclusion and Limitation of Liability
9.1. We do not exclude or limit liability for our negligence or negligent omission which causes you personal injury or death.
9.2. We will not accept liability for any loss of or damage to photographic or any other equipment no matter how caused during or as a consequence of the services we provide.
9.3. It is your responsibility to ensure that you have adequate insurance to cover loss or damage to photographic or any other equipment before participating in the services.
9.4. In circumstances where we may be liable for any loss or damage suffered by you which is a reasonably foreseeable consequence of a breach by us of this Agreement, our maximum liability will be the amount of payment received from you for this particular service.
10. Contracts (Rights of Third Parties) Act 1999For the purposes of the Contracts (Rights of Third Parties) Act 1999 this Agreement is not intended to, and does not, give any person who is not a party to it any right to enforce any of its provisions.
11. Entire Agreement These Terms and Conditions of Business constitute the entire Agreement between us and you and shall apply to all services provided by us. The invalidity or un-enforceability of any particular term of this Agreement shall not affect the other provisions herein.
12. Law and JurisdictionThis Agreement shall be governed and construed by the Law of England and you and we agree to submit to the jurisdiction of the Courts of England and Wales.

© 2020 ARWP LTD
Subscribe to the ARWP newsletter
Get all the latest and exclusive news straight into your inbox