Tiger T109 Veeru killed in a fight in Ranthambhore
It's my sad duty to report that another young male tiger has been killed in Ranthambhore. The young male T109 Veeru was killed in zone 10 by the established male Fateh a few days ago. Forest Department officials reached him and despite quick veterinary intervention he succumbed to his injuries. This follows the death last year of young male Pac-man in similar circumstances (although to a different male). This is the story of Veeru...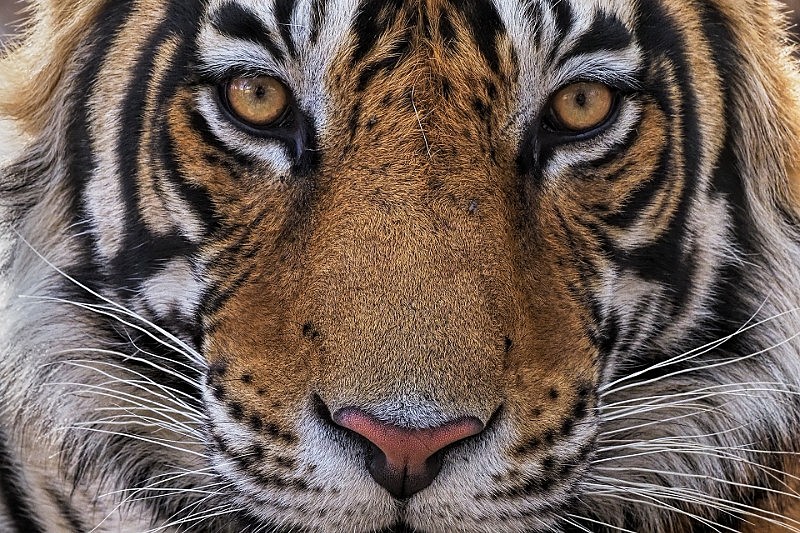 There is nothing sinister in his death, it is normal for a young male once pushed out of his territory by his father to wander in search of a new territory. It's a damn tough time for a young male tiger, they aren't big or strong enough to take on existing territorial males so they have to find somewhere they can establish a territory of their own that has both suitable habitat, suitable prey and of course females. Sometimes they get lucky, but in Veeru's case they are in the wrong place at the wrong time and just don't have enough in the armoury to fight back. It's natural selection at it's most brutal.
Increasingly as success of Ranthambhore's tigers grows, the problem with wandering males is going to get worse. I wrote a BLOG last week ( click here to see it ) about the fate of Pretty Boy, a year older than Veeru, who wandered and turned man-eater as he was pushed increasingly into areas where he would come into conflict with humans. Of course the situation with Veeru is different, but the problem of young male tigers starting to wander out of the core area is only going to get worse as the population grows. And right now we have two more male cubs, sons of the mighty Krishna, who will this season get pushed out by their father T-74 and will have no choice but to find a territory elsewhere.

There are many success stories of young male tigers that do find there place, we know about one of these due to the fantastic efforts of Tiger Watch who continue to make a difference in Ranthambhore. Noor's first surviving son, Sultan T72, wandered far and wide when he was kicked out by his father Ustad T24 but he avoided human conflict and eventually ended up in Kaliadevi Sanctuary. Here he has reigned supreme and now he is a "boss' with a large territory and cubs of his own. Here he is on one of the last times that I saw him...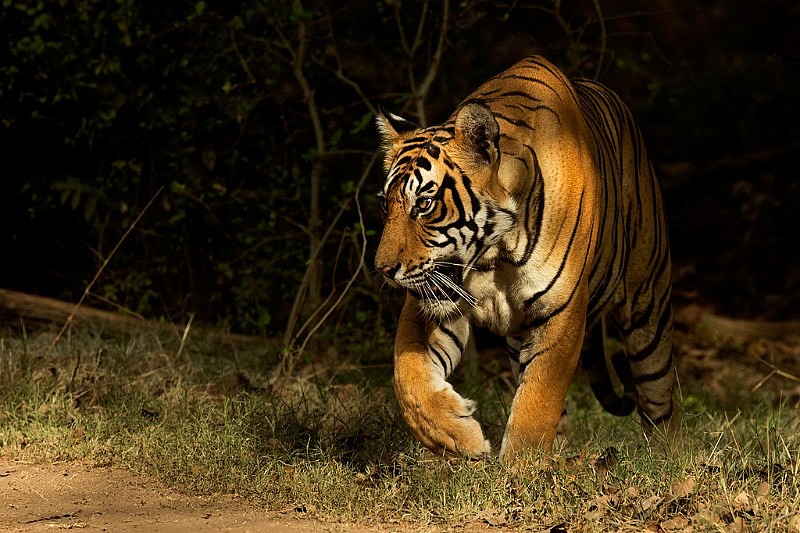 And there are many like Sultan who go on to make a successful life. Clearly there has to be a management plan for these young males to try to mitigate against too many deaths but it is just a natural process that has been going on for centuries. Too often these days we react and interfere so what we need is a period of investigation and discussion to work out the best forward and then come up with a plan to decide if we need to act and how. One option is to translocate them to other parks that are being established as new tiger reserves. One of my favourite males ever, Cowboy T91, was moved to the Mukundra Hills tiger reserve as the dominant male. Eventually (after a ridiculous delay) a single female, one of Noor's daughters, has been moved with him so at least they have a chance of starting a new generation there. Hopefully the second promised female will fight through the bureaucracy make her way there; it's a blueprint for the future if we can make it work. But also of course the other option is to just simply do nothing, not to interfere and let nature take it's course.
A celebration of Veeru's life
Some of you might think it strange that I celebrate the life of a tiger, but to be honest I've seen more of Veeru in the past three years than some of my old friends!!! He has given a lot of people a lot of pleasure so I want to remember him for the lovely male tiger that he was. I first saw him when he was a tiny cub with his brother Jay. He was only 3 months old, very small to be out, and had been left by his mother whilst she went off to hunt...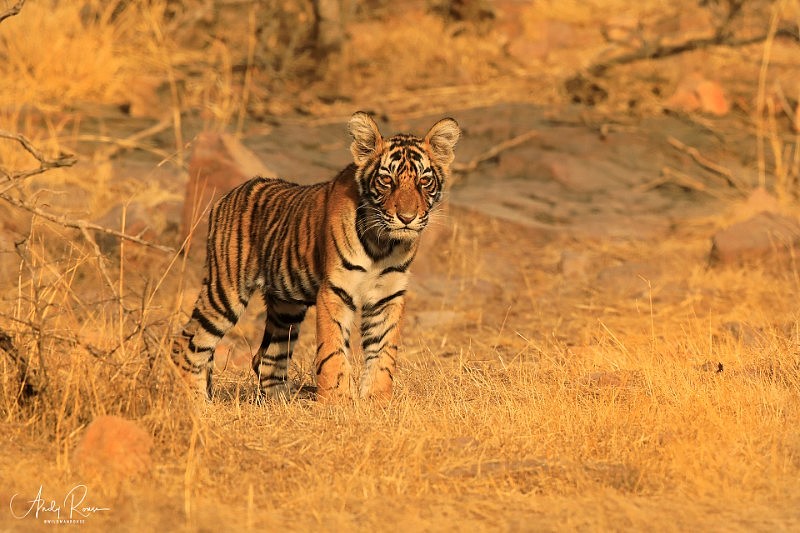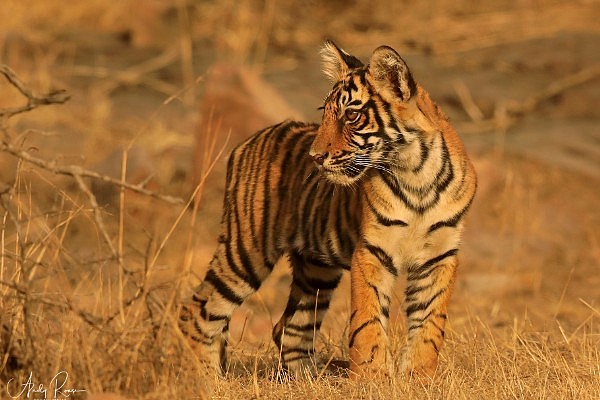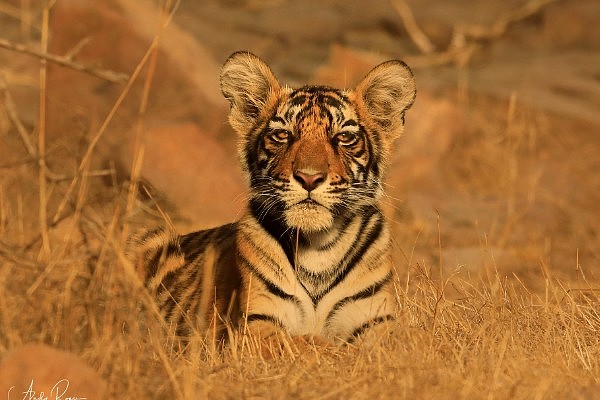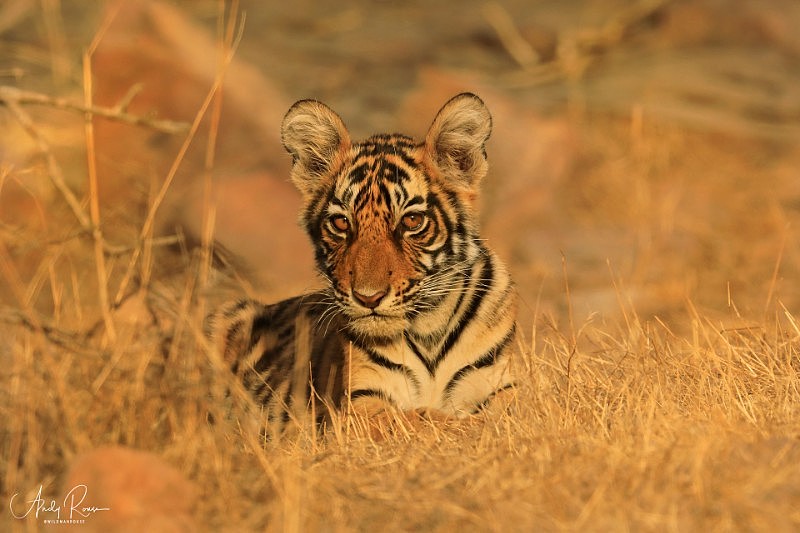 At this stage the characteristic facial markings that allow us to identify him from his brother Jay, including those perfect eyebrows, were very evident.
After that I didn't see him much as Dicky and I were working solidly on our Noor book and rarely ventured into zone 6. Then last year, when Noor moved her territory to the edges of zone 6, we started spending time with both of them again as they were really growing into independant male tigers and great fun to watch.
The last time that we saw him was the Summer of 2019, when he walked across the rocky plateau of zone 6. He was powerful and strong, independently killing and starting to look like the real male tiger we all knew that he could be.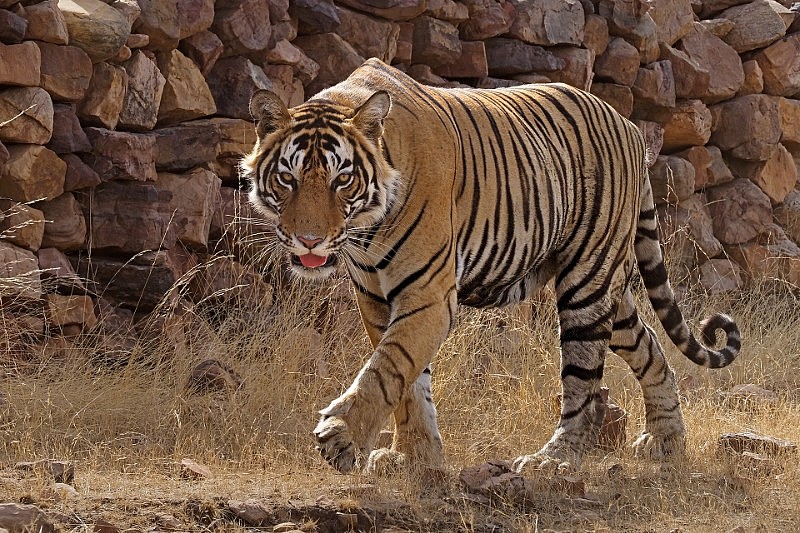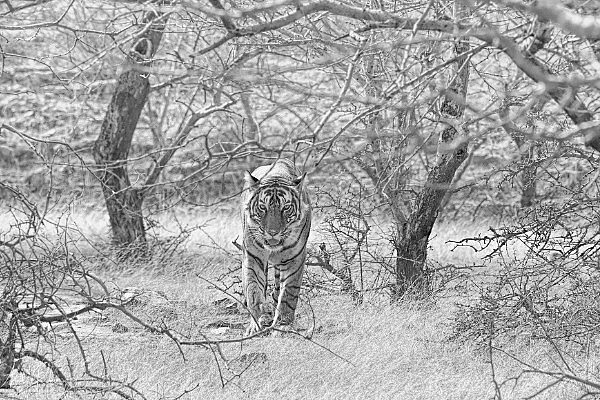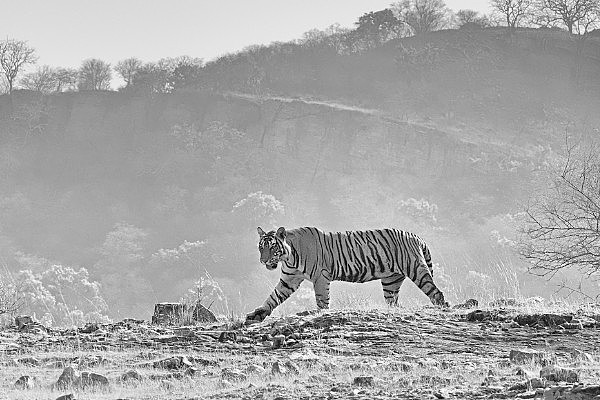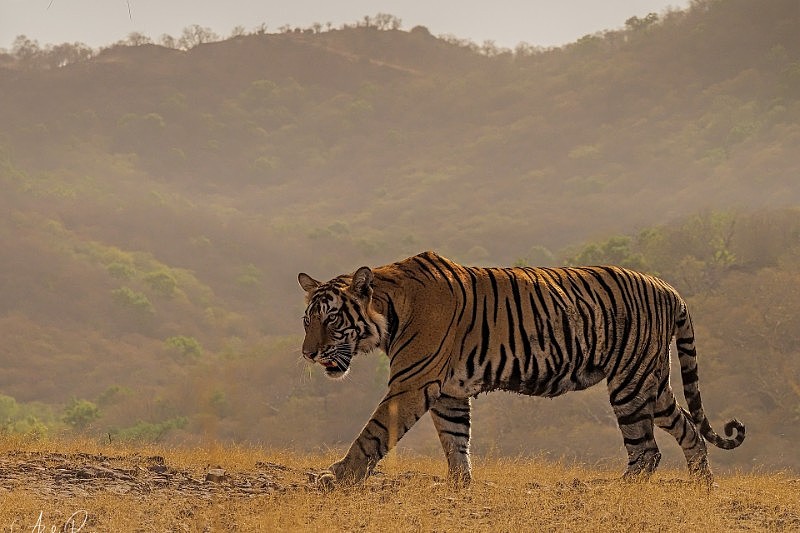 It's so tough looking at these images, I feel like I have really lost a friend. Just like Pretty Boy I've known him all his life, watched him grow and learn and become a magnificent male tiger. We knew that he had a tough time ahead, and we hoped beyond hope that, like Sultan, he would find a way through it. Unfortunately that's not the case, so rest easy fella and know that you made a lot of people's dreams come true and gained tigers everywhere much needed new friends. Tigers like Veeru are so important for conservation, which is why it's such a tragic loss when they are gone.
I was going to add a bit about his twin brother T108 Jay, as we know he was following Veeru. Unfortunately we had some alarming news about Jay today that I need to get some more info from Tiger Watch so I can tell you the facts. More on this later in the week in the 5.15 BLOG.


Noor Tiger
If you've been enjoying my tiger blogs and stories then why not grab a copy of my latest tiger book, Noor Queen of Ranthambhore.
Over 160 pages it follows the life of one amazing tigress in Ranthambhore called Noor. One minute a tender loving mother, the next a ferocious hunter, this book is a compelling story shot over 4 years.
It's packed with stunning pics too, from close-ups to environment to infra red. It's a work of passion from myself and Aditya Singh.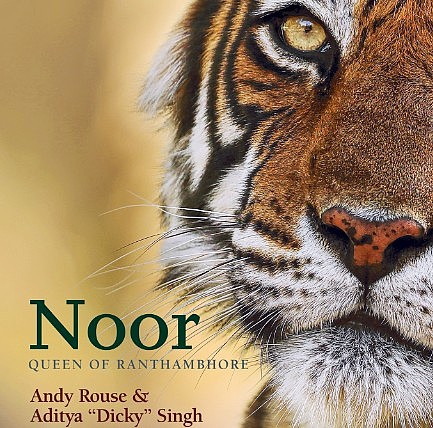 id=119
Subscribe to the ARWP newsletter
Get all the latest and exclusive news straight into your inbox